Should you work for free?
Last week on the Twitters, I noticed a post by Bob Ambrogi, offering details on a new website that wants to be "the WebMD of law:"
The video site TalksOnLaw describes itself as on a mission to help everyone better understand the law. To that end, yesterday it launched a new feature, TOL Briefs, which are short videos of five minutes or less designed to explain legal issues to the public.

The site, which launched about a year ago, already provides lawyer CLE videos as well as a series of TOL Talks — 30-minute interviews with leading lawyers about a variety of topics, from the Internet of Things to ownership of sperm.
It's been tried before, but no one has managed to do it. But, sure, go for it. Yet there was something else in the announcement that caught the attention of lawyers on Twitter:
"This is the perfect place to get your content out there and show your expertise, whether for lead gen or to show off to your existing clients," Cohen says.

There is no cost to lawyers to post their own videos as TOL Briefs, but the does provide guidelines on producing the videos and reserves the right to reject videos for any reason.

All of the content on the site is free to view, including the CLE content. However, users who want CLE credit must pay, either $25 per course or $399 for one-year unlimited access.
Soooo….lawyers create content for the site for free. But then…the site gets to make money off of your content, and the lawyers that create the content get…nothing? Oh wait, they get "exposure."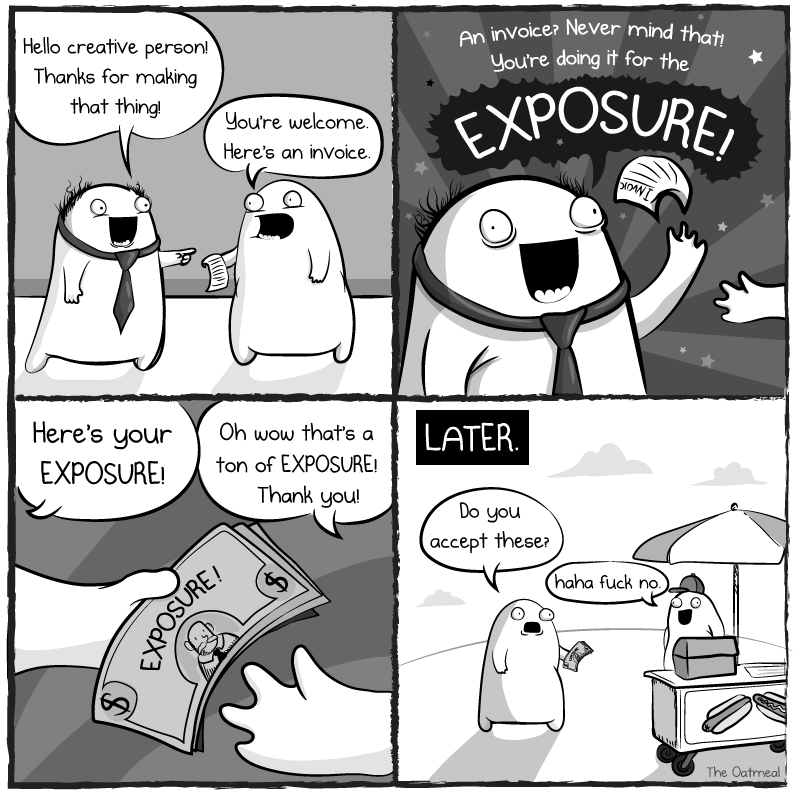 Should You Pay To Speak At A CLE?
Short answer: Hell no.
Longer answer: You can go read this post at Lawyerist on the topic. Here's Kevin O'Keefe from Lexblog chiming in as well. Lawyerist:
The idea of paying for a speaking gig is, well, a bit offensive. Especially when the host is already profiting from attendees, which is essentially double-dipping because the host gets paid by the audience and the speaker. The audience gets information and CLE credits. The speaker just gets a bill.
It's not "a bit offensive," it's a scam. Don't fall for it.
Should You Speak At A CLE/Conference For Free?
Short answer: It depends.
Longer answer: Let's look at a few scenarios.
Local bar/community organization: If you're involved with a local Bar or community organization, it's likely in your best interest to speak and be a part of the organization for free. I regularly try to help out and be involved in my local bar because it's important for lawyers to have an active, vibrant community that they can be a part of. Part of fostering this community is speaking, organizing, and being involved.
Non-profit organization/charity/law school: Generally speaking, you're probably going to want to speak at these events for free. They're already strapped for cash and you charging them for it doesn't help. Plus you get to go to law schools and scare everyone.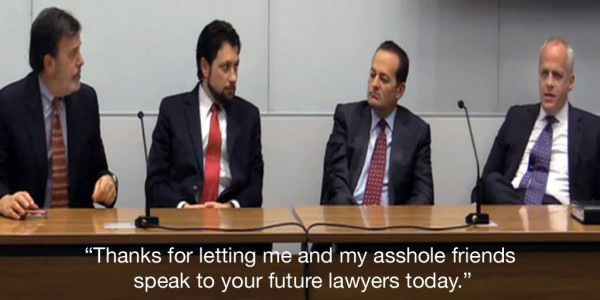 Huge platform ("Oprah"): If you are offered a place on a huge platform that will reach hundreds of thousands of people, it's probably in your interest to be there for free.
National or other large scale conference: If a large, national conference is having you speak, then it probably means you have some type of significant reputation and/or experience that is desirable to their audience. That means you're the attraction. If you're the attraction, you should probably get paid for being there.
The exception to this would be an industry-specific conference that is your target client market. For instance, if you're a lawyer that specializes in FDA regulation and compliance, and the National Cattlemen's Beef Association asks you to speak at their national conference, you should probably do it for free.
For-profit CLE/conference: Some business is charging people money for a service, and they want you provide a significant percentage of that service?
What About Expenses?
If something is local, generally within an hour or so, you should probably eat the travel costs. Charging mileage for a small amount of travel isn't worth it.
But if you're driving hundreds of miles? Flying? Staying overnight at a hotel? Then the organization should be paying for your reasonable travel and accommodation expenses. Otherwise, you're back in the paying-to-speak category.
Respect Yourself
It can often be tempting to take on any speaking opportunities that come your way. Especially if you're a new lawyer and trying to build a reputation from scratch. But that doesn't mean you should be doing so out of your own pocket. And it definitely doesn't mean you should be doing it so other people can profit.