I really don't want to pile on here, but augmented reality (AR) presents many interesting and new legal issues that haven't existed up until this point. These legal issues were previously theoretical. But with the emergence and popularity of Pokemon Go, these novel legal issues about augmented reality have been thrust into the here and now.
Of course, the general response to my pointing out the various legal issues with Pokemon Go has been people sending me this video clip again and again:
Yes, that would be a peaceful and soothing…
The game is appealing to virtually everyone, but it's simply not accessible for some players. Pokémon Go is limiting for people with physical disabilities, and the physical requirements needed to play the game—like moving around the environment to collect Pokémon, and walking a certain distance to hatch eggs—make it hard or impossible for some people to play.
Accessibility issues were raised in a thread on Tumblr describing the app's excluding elements. For instance, Alyx, who uses a wheelchair, said she could not access a Pokémon on the top of a rocky hill.
Nevermind! More lawyering!
Does Pokemon Go Have To Comply With The Americans With Disabilities Act (ADA)?
Like most lawyer answers, it depends.
There is no way to give a quick, easy answer because…there aren't any lawsuits out there dealing with AR. There is little jurisprudence and no case law on the topic. The best we can do is look at cases that seem similar to the scenarios involving AR and draw inferences. To answer the the above question, let's start with understanding the ADA:
The Americans with Disabilities Act (ADA) became law in 1990. The ADA is a civil rights law that prohibits discrimination against individuals with disabilities in all areas of public life, including jobs, schools, transportation, and all public and private places that are open to the general public.
It's a law to make sure that people with disabilities have equal access to good and services as everyone else. It's why there must be wheelchair accessible ramps in new buildings. Why any type of public terminal or other electronic interface has braille lettering on its keys. Many have audio terminals as well.
All of the above generally fall under Title III of the ADA, Nondiscrimination on the Basis of Disability by Public Accommodations and in Commercial Facilities:
This title prohibits private places of public accommodation from discriminating against individuals with disabilities. Examples of public accommodations include privately-owned, leased or operated facilities like hotels, restaurants, retail merchants, doctor's offices, golf courses, private schools, day care centers, health clubs, sports stadiums, movie theaters, and so on.
While these places may be privately owned, they are regarded as a "place of public accommodation." That's all well and good…so what does that have do with AR? Or anything computer/software based?
The ADA Comes To Cyberspace
Back in 1996, the Department of Justice (DOJ) issued an opinion letter stating:
Covered entities under the ADA are required to provide effective communication, regardless of whether they generally communicate through print media, audio media, or computerized media such as the Internet. Covered entities that use the Internet for communications regarding their programs, goods, or services must be prepared to offer those communications through accessible means as well.
Combine the opinion letter above, with the part from Title III I quoted, "prohibits private places of public accommodation from discriminating against individuals with disabilities," and we end up with a murky question: are websites "places of public accommodation?"
That's not some hypothetical either. In 2008, Target settled a lawsuit with The National Federation For The Blind for $6 million. Yet in another case, a court ruled that the ADA doesn't apply to Netflix because it's "not connected to any actual, physical place."
What gives?
Circuit Splits
While you make only make the distinction of thinking about the United States as 50 separate states, lawyers also think of it in terms of circuits. Circuit courts rather. Formally known as United States Courts of Appeals.
When there has been no guiding decision from the Supreme Court of the United States (SCOTUS) or explicit law from Congress (LOL), the Circuits are free to interpret things as they see fit. For example, there was disagreement over the legality of gay marriage until SCOTUS found gay marriage to be legal in Obergefell v. Hodges. Afterwards, all the Circuits have to fall in line. But with no guiding ruling, the Circuits often "split."
That's what has been happening on the issue of whether or not websites are "places of public accommodation."
The federal courts have wrestled with the issue of whether Title III covers websites, resulting in a split among the circuits. The First, Second, and Seventh Circuits have held that a place of a public accommodation does not have to be a physical structure. Relying on the statutory language of the ADA, these courts noted the places listed under the Act were not limited to places in which services were conducted exclusively within a physical structure. On the other side, the Third, Sixth, Ninth, and Eleventh Circuits have concluded that Title III only applies to physical structures. A nonphysical good or service is only a public accommodation to the extent it has "a nexus to a physical structure."
The implication of this split is that online-only entities with a broad geographic presence face a patchwork of liability based on where a plaintiff is located. By way of example, Netflix—a service provider that is exclusively Internet-based with no legally cognizable physical structure—found itself on both sides of the split in 2012. A federal court in Massachusetts concluded Netflix was covered by the ADA because the ADA's definition of public accommodation is not limited to physical structures. Later that year, a federal court in California decided Netflix was not covered by the ADA because, applying that circuit's established standard, the ADA is limited to physical structures, and will only apply to a website if there is some connection to the physical structure.
So if you're in one Circuit a website is a "place of public accommodation" and another it isn't? Not exactly.
Despite the division of opinion in the courts, in 2010 the DOJ formalized its position with an Advance Notice of Proposed Rulemaking regarding "web information and services," which states (1) no physical structure is necessary for an entity to qualify as a place of public accommodation under Title III of the ADA, and (2) a website is within the scope of Title III so long as it provides goods and services within one of the twelve categories of public accommodations listed in the ADA.
So at some point going forwards, websites are going to fall under the ADA. It's just a matter of time.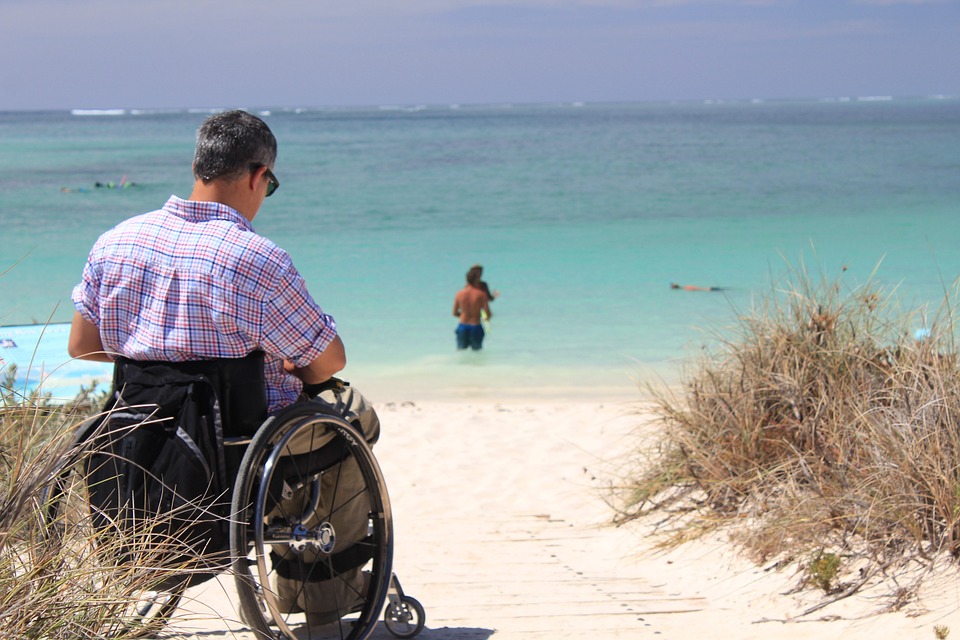 What About Augmented Reality?
Here's where things enter the hypothetical. Why? Augmented reality is so new, no lawmakers or courts have addressed it as yet. But let's explore it for a moment.
Augmented Reality is:
a live direct or indirect view of a physical, real-world environment,
whose elements are augmented (or supplemented),
by computer-generated sensory input such as sound, video, graphics or GPS data.
AR is an information and communication service. One that intersects with the real world by virtue of GPS or mere physical presence. That would seem to indicate that it falls under the auspices of the ADA. But what of the wrinkle that 'A nonphysical good or service is only a public accommodation to the extent it has "a nexus to a physical structure?"'
In March, in the matter of Davis v BMI/BND Travelware, a court held:
Title III of the ADA applies to plaintiffs use of a Website where plaintiff has demonstrated he sought good and services from a place of Public Accommodation because he demonstrated a sufficient nexus exists between Defendants retail store and its website that directly affects plaintiffs ability to access good and services (emphasis added).
Given that Pokemon Go, and likely any all future AR applications, specifically function due their connection between a computer generated world and the real, physical one, it would seem highly likely that any court would find that a sufficient nexus exists for AR applications/services to fall under the ADA. Especially given that disabled people are stating they are unable to reach Pokemon in certain areas.
Undue Hardship
But not every "place of public accommodation" company as to comply. The ADA provides an exception when compliance would be met with "undue hardship:"
"Undue hardship" is defined as an "action requiring significant difficulty or expense" when considered in light of a number of factors. These factors include the nature and cost of the accommodation in relation to the size, resources, nature, and structure of the employer's operation. Undue hardship is determined on a case-by-case basis.
Generally speaking, the larger the business, and the more financial resources it has, the more likely they will not be met with "undue hardship," by complying with the ADA.
Given that Pokemon Go is projected to potentially make $1 billion annually, and any accommodations would not require physical alterations, merely code adjustments regarding geo-spatial placement of AR objects, it seems doubtful that Pokemon Go would meet the burden of it being an "undue hardship."
At the moment, there is no guidance as to whether or not AR applications such as Pokemon Go have to comply with the ADA. It will likely take someone bringing suit against an AR company as a matter of first impression in order to establish some guiding authority on the matter. Until that time, all we can do is make informed speculation.
But if I was a company building an AR application to take advantage of the Pokemon Go craze…I'd err on complying with the ADA.
Remember technology companies, lawyer up before you startup.
[divider]
Thanks and shout out to Jay Wolman at Randazza Legal Group for helping me run some of this down. 
P.S. this still applies:
IT ISN'T MY FAULT I THINK THIS WAY, LAW SCHOOL MADE ME LIKE THIS. https://t.co/6Vywim4gzd

— Keith Lee (@associatesmind) July 11, 2016