It's that special time of year. Lights strung around the home, curling up before a warm fire, celebrating with family, and…IP infringement?! Sure, why not, this is a legal website.
Anyway, I'm cruising along Facebook, avoiding looking at pictures of people's kids in holiday garish holiday garb. And I'm not throwing stones here, we do that shit too.
In my newsfeed, someone has shared one of those annoying food videos. They're all the same. Some three hour long recipe distilled into 45 seconds that looks like it's been crashcut together. Awful.
Lo and behold, what catches my eye but a loveable character from Dr. Seuss, The Grinch. That dastardly old villain who despises Christmas, but eventually is won over by love and generosity. And despite the Grinch's surly demeanor, he's still very much a children's character.
The current intellectual property ("IP") owners, Dr. Seuss Enterprises, L.P. ("DSE"),  go out of their way to make sure the Seuss IP remains kid-friendly, kid-focused, etc.
The primary focus of Dr. Seuss Enterprises, L.P. (DSE) is to protect the integrity of the Dr. Seuss books while expanding beyond books into ancillary areas. This effort is a strategic part of the overall mission to nurture and safeguard the relationship consumers have with Dr. Seuss characters. Theodor Seuss Geisel (Dr. Seuss) said he never wanted to license his characters to anyone who would "round out the edges." That is one of the guiding philosophies of Dr. Seuss Enterprises. Audrey S. Geisel, the widow of Dr. Seuss, heads Dr. Seuss Enterprises as President.
Now, they can be a little overly litigious at times mind you. Not everything is a violation of your IP. There are "fair use" instance of protected IP…
…but GRINCH SHOTS!!! likely isn't one of them.
How Delish Stole The Grinch
As far as I can tell, that's pretty blatant use of a protected character IP, music, etc. There is no indication of DSE licensing1DSE aggressively marks all materials that use their license, example anywhere in the video or on the Facebook page of the offender, Delish, nor on its own website where it hosts the recipe for the shots.2Note: Archived copy of page, as I anticipate that they'll be quickly pulling it down.
Normally when I see flagrant IP violation by a regular person or a small business, I shrug it off because they're likely lay people that don't know better. They're not familiar with IP or licensing. But Delish:
Hearst Magazines and MSN partnered to develop and launch Delish.com. The site is owned, built and edited by Hearst Magazines Digital Media. Delish.com's traffic places the site into the top 10 food-related destinations online.
Hearst has launched, re-launched or acquired 23 Web sites and nine mobile sites for brands such as Cosmopolitan, Esquire, Good Housekeeping, Marie Claire and Seventeen, as well as non-magazine brand sites such as TheDailyGreen.com and MisQuinceMag.com.
Oh, they know better.
What's crazy is that this recipe has been on Delish's website for over a year. But this video seems to have been only created and uploaded in the past couple of weeks; likely to attempt to drive traffic back to the older recipe.
And let's be clear, it's working to the tune of 2.1 million views so far on Facebook alone: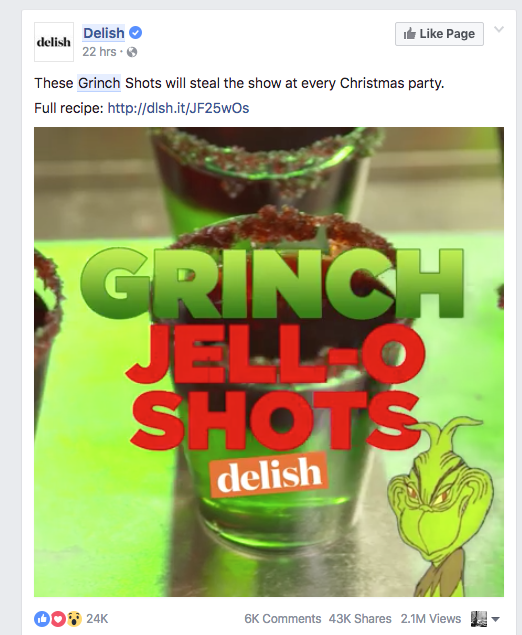 You might argue that merely using the word "Grinch" is "fair use," but even the word "Grinch" is actually trademarked by DSE. And I can't see how the above video would fall into the realm of "parody." It's not satirizing any aspect of the Grinch character or story. They're just using the Grinch IP to help promote their own services.
Please Be Number 2, Please Be Number 2…
There's two ways this plays out:
While unlikely, Delish very well could have licensed the Grinch from DSE. If that's the case, none of this matters, I'll update the post, note the correction, and then we can all point and laugh at me for wasting my time with this. Cue *Nelson-ha-ha.gif*
Some upstart AV/social media intern made this video to give the old post a boost this holiday season. Some kid that didn't think anything of using the Grinch and certainly didn't run it by legal.
Given the nature of the Grinch IP (a children's work), how it is licensed (very carefully by DSE), and the lack of any protection notices on the work (™ & ©), I'm going to go with number 2.
And "but it's just Facebook/Twitter/Instagram!!!" is not a legal defense to infringement. You can't just go around using other people's IP to promote your own product and services because you want to.
How Should DSE Respond?
Given DSE's past history with litigation, I wouldn't be surprised if they head towards a lawsuit right out of the starting gate.
But given that it's Christmas time, and in the spirit of the Grinch, may I suggest an alternative.
Dear DLA Piper (megafirm repping DSE),
Advise your client (DSE) to let Delish go with a stern letter and DMCA takedown. If you cut them a break, they hopefully won't fire and flay the kid, a likely certainty if Delish is sued by DSE for IP infringement. Delish is probably going to take the video down anyway once this gets around. There's no need to hammer them for this.
In this one instance, let your heart grow three sizes. Allow this to merely be an opportunity for people to learn about copyright, "fair use," and licensing. The more people know about this stuff, the less likely it will happen again in the future. You don't have to immediately react with litigation.
Your pal,
Keith