In 1993, I walked into an outdoor equipment store looking for a pair of rock climbing pants. I had just been climbing and rappelling a week before and promptly decided that I was going to take up rock climbing. I was young and taking up a hobby every three months. They generally didn't last. Like most young people I hopped from activity to activity – searching for something to hold my interests. I wandered about the store, fumbling around, not knowing what to look for. Eventually I came upon an odd pair of pants that were made exclusively for rock climbing.
The pants were a mild khaki and light in weight. Instead of a typical zipper or buttons at the waist, they had a built-in drawstring/buckle. The pants also had a gussett between the legs in order to accommodate the acrobatic leg placement that comes with rock-climbing. They were made by a company named Gramicci.
As to be expected, my yearning for rock climbing diminished and joined a long list of pastimes that were now firmly in my past. But I kept the Gramicci pants. Through high school. Camping, lake weekends, trips to the beach. Onto college. Tailgating, roadtrips, parties. State-to-state, country-to-country, I lugged the pants around. Years pass after college. Multiple apartments and jobs eventually give way to a house. Law school. A family. The pants no longer used that much for adventure but for working in the yard.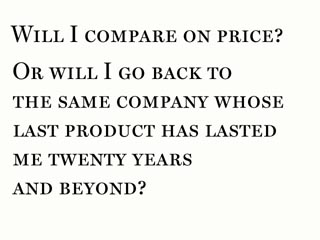 I wore them this weekend while cutting the grass. My four year old son merrily following along behind me with his toy lawn mower. After I was done I looked at the pants. Every edge was frayed. There are an indeterminate number of small holes and stains. But by and large – the pants are fine. A little worse for wear, but they function exactly as I need them to, 20 years on.
Eventually I will need to replace these pants. Get something else for my (now occasional) outdoor adventure and (much more common) working in the yard. Will I try to find the best deal? Will I compare on price? Or will I go back to the same company whose last product has lasted me twenty years and beyond?
This Is the Greatest Hoodie Ever Made
Last year, I read an article in Slate about a new apparel company called American Giant. American Giant's aim is to bring back high quality American manufacturing. They decided to begin with the humble "hoodie" – the zip-up hooded, sweatshirt. An odd place to start, but as American Giant founder Bayard Winthrop stated in the Slate piece:
"I grew up with a sweatshirt that my father had given me from the U.S. Navy back in the '50s, and it's still in my closet," he told me. "It was this fantastic, classic American-made garment—it looks better today than it did 35, 40 years ago, because like an old pair of denim, it has taken on a very personal quality over the years."
But hardly anyone makes clothes like that anymore. It's too expensive. The market is mass-market. Quality gave way to price. Manufacturing shipped overseas. 100% cotton gave way to blends, which gave way to synthetics – not because they are better, but because they are cheaper.
In contrast, American Giant made the decision to keep its manufacturing in the US in order to maintain high quality control. They use heavyweight cotton – that is difficult to work with – but produces a much better sweatshirt. They brought in an ex-Apple product designer to completely re-think hoodies from the ground up. Each hoodie is fitted, with stretch side panels to enable mobility. Thick brass zippers and heavy-gauge thread for seams.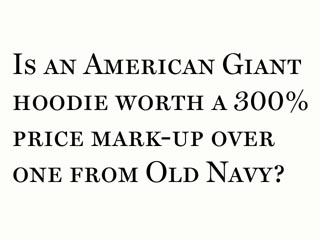 Of course, this isn't cheap. American Giant hoodies sell for $79, a far cry from a $20 hoodie you can grab at Old Navy. But after reading the article, I knew I wanted one. I placed my order and was promptly wait-listed. After waiting five months, I received my hoodie last month. The packaging itself spoke of quality, the hoodie wrapped and layered in the box. The sweatshirt was heavy. Just running my hand over the fabric, I could tell that it was easily the highest quality sweatshirt I had ever felt. If I was going to choose one word to describe it, I would choose "significant."
Winthrop claims that their hoodies are built to last a lifetime. I've had mine less than a month but it feels like it could last that long. Is an American Giant hoodie worth a 300% price mark-up over one from Old Navy? It depends. Do I want a disposable garment or do I want article of clothing that will join the 20 year club along with my Gramicci pants?
Stop Selling, Start Building
Recently I was listening to a group of new lawyers talking about how to generate business. What was easy to do. Things that could be done quickly and with minimal work. Wills and basic estate planning came up often. It's "easy work" that could be largely automated with forms and scripts. A lawyer could sell their services to clients at a competitive rate as it could largely be done off-the-shelf. It was "fire-and-forget" work.
Gramicci built a relationship with me by providing a product that has lasted decades. American Giant wants to build that same sort of relationship. They've told me – everyone – that when you buy their products you buy them for life. These relationships are built on a high degree of quality that encourage me to place my trust in their products.
What if instead these lawyers took their time with their wills and estate plans. Crafted them with a high degree of customization and quality? What if the lawyers told their clients that they put all wills and estates into a rolling 5 year calendar system? That the lawyers will follow up with the clients every five years just to make sure their wills and estate plans stay current with any changes in their family and finances? That the lawyers would take on that responsibility for the clients at no cost. A lawyer that offers that level of service isn't looking to sell services to a client, they are looking to build a relationship with that client that will last a lifetime.
Customers who receive products and services of exceptional quality become lifetime customers – even if it is for only one product. Just as importantly, they become the biggest advocates of such products and services; unofficial ambassadors to the world. Telling everyone about "high quality," or "long-lasting," or "zealous representation." Instead of having sold someone a good or service, they have instead created a relationship. A bond and loyalty that is difficult to sever.
Instead of cheap, disposable commodities, these companies deliver value. And in doing so, their customers, their clients, feel compelled to share these experiences. They become advocates for the company, not at the behest of the company, but because they genuinely want to. They share their relationships they have with the company and their services with their friends. They tell everyone about the services and why others should use them.
They become the best clients you can have.