So over at the private Lawyers sub on reddit, a user asked the question:
What are your tips for not thinking about work after hours?
Distressingly, the majority of the responses involved: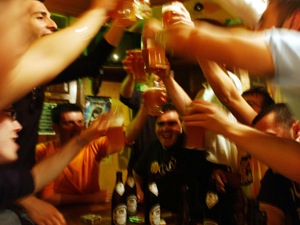 To be fair, some suggested working out as well. For my own part, I have a variety of activities to keep me occupied post-office hours. First and foremost, I have a family that commands my attention. I work out on a regular basis. Blogging and other writing also take up a fair amount of my time. I have a deep and abiding love of reading and can spend hours doing so.
But at the end of the day, I think to be a lawyer is to take you work home with you. I know I will wake up in the middle of the night thinking about a client's matter. Was our filing timely? Did we miss a deadline? What is opposing counsel planning? The thing with being a lawyer is that clients ask you to take your problems on as your own – it's inevitable that they will creep into your life. I suppose that the best a person can hope for is a brief respite, something to distract them for a time.
Anyone else? What do other lawyers do for stress relief after work?