If you spend any time around lawyers, you'll realize very quickly that they love to tell war stories. Every lawyer has them. It's often a competition to see who can better the other.
"I was in a depo and the opposing counsel started making lewd gestures to the deponent – a priest."
"Well I was in court last week and Judge Thomas through the book at me – literally picked up a code book and threw it at my face!"
"Wait guys – let me tell you about what this client offered me in exchange for getting them off for a DUI…"
It's easy to have war stories as a lawyer as you generally deal with people in in stressful or problematic situations. Not to mention that good lawyers are storytellers. And often times the lawyers with the best stories – and the best storytellers – are criminal defense lawyers and family lawyers. Both groups interact with people at are what likely some of the lowest points in their lives.
I recently received a book of war stories. A review copy of Keeping It Civil: A Family Lawyer's Files on Love, Money, & Power by Margaret Klaw. Klaw is a family law attorney in Philadelphia who blogs at Family Law Unraveled and at the Huffington Post.  Klaw has been practicing family law for over 25 years – she has lots of stories.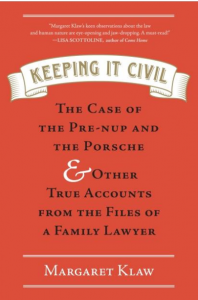 Divorce settlements that fall through over a painting. A lesbian couple that wants to include their sperm donor in their child's life – but the sperm donor is the brother of one partner, so he will be the biological father as well as the child's uncle. Helping a client getting a restraining order – only to hear of her murder two days later. Through it all, Klaw gives the "inside baseball" perspective of the lawyer handing the cases. How Klaw learned to erect a professional "wall" between herself and her clients, and how often clients managed to seep through that wall. The nuanced tactics that only experienced lawyers know and that are never taught in law school. Keeping It Civil also shows the immense highs and lows that can come with a family law practice. A victory for a client can mean protecting them from danger and a loss may mean that a parent rarely ever gets to see their children.
All in all, Keeping It Civil provides a inside look on the state of marriage in the 21st century. If you're curious about what it means to be a family lawyer, or have ever wondered what a divorce looks like from a lawyer's perspective, you would do well to pick up Keeping It Civil.
Click Here To Buy It Now
Affiliate link