I recently received a review copy of the second edition of Brian K Johnson & Marsha Hunter's The Articulate Attorney: Public Speaking for Lawyers.
Johnson & Hunter get right to the point of the matter with their very first sentence:
People expect attorneys to be good public speakers.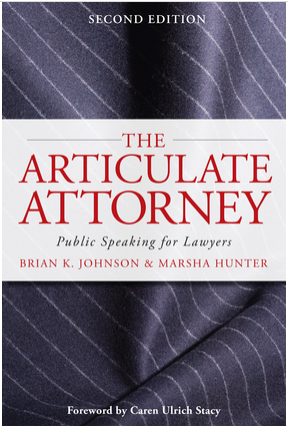 Yet as all lawyers know, the public speaking skills of lawyers range from world-class to abysmal, with most lawyers likely falling closer to the latter end of the scale.
But the general public expect lawyers to be eloquent and full of personality when speaking. People have seen dozens of lawyers give speeches and argue in courtrooms in TV and movies – and isn't everything on TV true?
As a result, people expect their lawyer to be a good public speaker – especially if they are going to retain the lawyer to represent them in court. Yet even beyond that, because so many people expect lawyers to be good public speakers, friends and communities that you are a part of may ask you to speak at events as well.
There are always events, clubs, panels, boards, parties, etc. that are in need of speakers and often look to lawyers to fill that roll. It also presents an excellent opportunity to present yourself as a lawyer to to groups of new people.
But if you are one of the many lawyers – people really – that are apprehensive about public speaking, you may find yourself turning down these opportunities, to your detriment. I can't say that The Articulate Attorney will be a panacea for your public speaking fears, but it does provide a thorough framework that any lawyer should be able to use to develop or improve their public speaking skills.
The Articulate Attorney is broken down into four sections:
Your Body
Your Brain
Your Voice
How-To Practice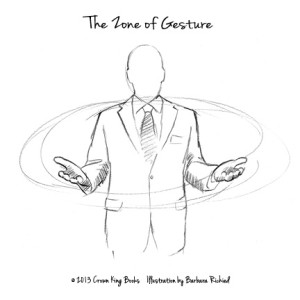 This is not a book of generalities. Each section goes in-depth on specific tactics to tackle problems speakers face. The section on the body goes over breathing, stance, gestures, eye contact, and more.
In "Your Brain" strategies are provided on how to deal with the adrenaline dump that often comes from public speaking and focusing your nervous energy into power for speaking. This continues in the section on voice with methods to control tone, avoiding "uh," and proper pacing for different types of speaking.
Finally, in the "How-To Practice" section, a plan is provided for putting into place the strategies laid out in the book. Johnson & Hunter go out of their way to emphasize the importance of practice:
Practice is the path to expertise. It is the only way to improve skill in any discipline. The more complex the skill, the more practice is required.
Being a good lawyer is an incredibly complex discipline, one composed of many sub-skills. Many lawyers become overwhelmed by the variety of skills they need to develop in order to grow into a competent lawyer. Their professional development stagnates because it seems like too much to tackle.
The reality is that you just need to breakdown the skills you need to hone and polish and tackle them one at a time. If public speaking is one of the skills you need to develop and improve (and most lawyers likely should), then you would do well to pick up The Articulate Attorney.
Click Here To Buy This Book