There has been a bit of discussion around legal blogs lately debating the importance of networking and building relationships in person v. some other method of building relationships.
There are a number of marketeers, social media gurus, and lawyer coaches out there who will tell you that being on the internet, and social media in particular, are the next "big thing." You've got to get out there and be on the web! Make sure you're sharing! Engage with strangers! Take out Google Ads! Build organic SEO link-fests strewn across dozens of second rate press release sites. Or whatever the current advice is.
Why are marketeers recommending this to lawyers? What are the benefits? Marketeers say that there are clients (which is incorrect, there are potential clients on the internet, they do not become clients until they are retained) out there and you need to engage with them in order to build trust.
Trust is the key factor here. People have to trust something or someone before they buy a product or retain services from them. For some people the threshold of establishing trust is low, for others it is high. But trust is essential in the client-lawyer relationship. Without it, you've got nothing. The question then becomes, how to best build trust in potential clients. Demonstrate to them that you are a lawyer worthy of their trust? Is social media really the answer?
Let's look at a recent survey conducted by Forrester Research. The survey came as part of a research study by Tracy Stokes entitled How To Build Your Brand With Branded Content. The study's methodology:
Forrester conducted the North American Technographics® Online Benchmark Survey (Part1), Q2 2012 (US, Canada) in April and May 2012 of 58,068 US and 5,635 Canadian online adults ages 18 to 88. For results based on randomly chosen samples of these sizes (N = 58,068 in the US and N = 5,635 in Canada), there is 95% confidence that the results have a statistical precision of plus or minus 0.4% of what they would be if the entire population of US online individuals ages 18 and older had been surveyed and plus or minus 1.3% of what they would be if the entire population of Canadian online individuals ages 18 and older had been surveyed. Forrester weighted the data by age, gender, income, broadband adoption, and region to demographically represent the adult US and Canadian online populations. The survey sample size, when weighted, was 57,499 in the US and 5,347 in Canada.
Keith, that was a lot of math. I'm a lawyer, I went to law school so I don't have to do math. What does it all that mean?
It means that the survey has a high degree of statistical precision and that the results of the survey very likely match the general populace's trust in advertising and promotion. Furthermore, it is worth noting that this was an online survey – not done over the phone or in-person. Which is why Forrester included this little note:
Respondents who participate in online surveys generally have more experience with the Internet and feel more comfortable transacting online. The data is weighted to be representative of the total online population on the weighting targets mentioned, but this sample bias may produce results that differ from Forrester's offline benchmark survey.
So hey-hey, these are your potential online clients. They have experience with the internet, they feel comfortable in making online transactions. So let's cut to the chase and look at how these savvy online consumers ranked trust in advertising and promotions across the board: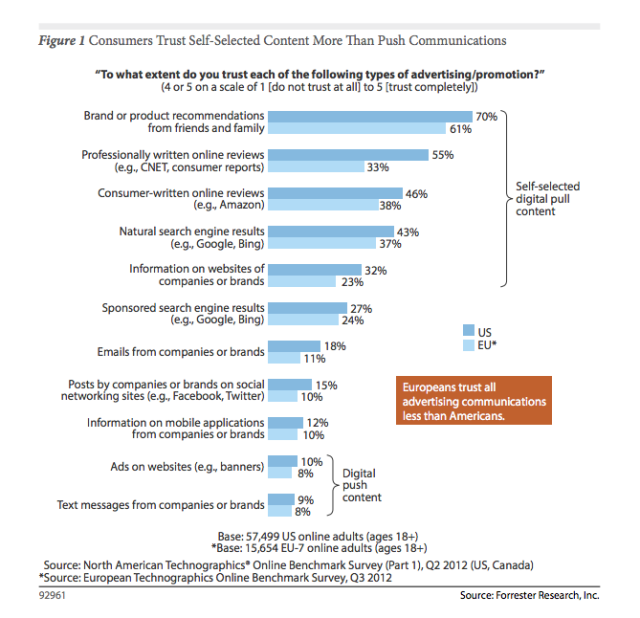 People, particularly savvy internet users, barely trust social media posts, website ads or mobile apps.
There is some potential for trust there, something in the nature of 10-15%. Compare that to the highest ranked category of trust, recommendations from friends and family.
70% of people trust recommendations from people they know. I'd imagine this would be even higher if it was in-person recommendations and not online ones. So where should a lawyer spend their time and energy in trying to build trust again?
That's not to say that you should abandon social media. Social media is fun and can be a great way to act as a virtual water cooler. But a lawyer is far better off in providing high degree of service to their existing clients, and going out into their community and building new relationships (note: this can be done online as well – but are you?).
Building relationships is the magic formula. The same magic formula that it's been for 150 years.